ISM is actively seeking corporate partners to join us and our clients for an exciting 2015-2016 motorsports season. Motorsports Marketing represents a tremendous promotional and marketing platform to heighten brand awareness, shape consumer attitude, communicate a commitment to a certain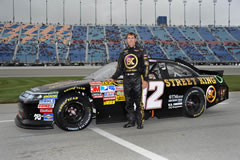 lifestyle, differentiate your products and services from your competitors, entertain customers, create merchandising opportunities and showcase products.
Experience the unforgettable flair of being right at the track at one of the premiere events in the world that will have you and your select customers captivated. Companies have proven time and time again how motorsports racing has elevated their company and products beyond their greatest expectations.
We can tailor our program to meet your marketing and financial needs. We can put your corporation out there in front of millions of loyal motorsports fans. As a sponsor in motorsports you get live national media exposure via television, radio and newspaper along with brand exposure in motorsports licensed publications and programs. There is no greater impact on consumers than having a motorsports driver represent your brand and promote your product!
We look forward to initiating this relationship with your corporation. We appreciate your enthusiasm for motorsports and are confident that we can work together to enhance your business strategies.